Personal Background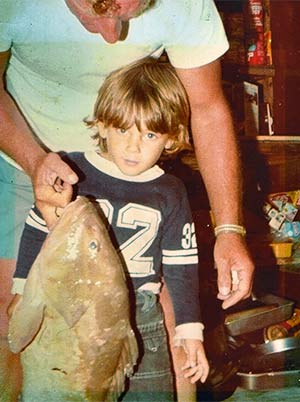 Capt. Clint, Big Coppit Key1977
Clint was raised in the islands of The Lower Keys. Growing up, his childhood was immersed in the local island lifestyle and the multi-layered cultures of a small, transient and ocean based town.
At age 2 , his family moved to Stock Island, before settling into a home on Sugarloaf Key. This would be where he'd spend his childhood and teenage years, most days exploring his aquatic backyard. Through his twenties, nights were spent playing local bars as a guitarist and days were spent on the water for fun and work. His love for the ocean eventually took lead and has since pursued a life on the water without looking back.
Also an active artist and artisan, you can find Clint's work throughout The Lower Florida Keys. If you are in town check Mangrove Studio Events for upcoming events and shows, stop by Wanderlust Boutique on Petronia Street in old-town Key West, Artists in Paradise on Big Pine Key or swing by The Key West Artisan Market from October -April. Pieces include island photography in handmade driftwood or recycled wood frames, mirrors in the same tropical style frames, Caribbean signs, wind-chimes, candles and a forever evolving collection of artisan goods.
If you would like to buy any of Clint's work and have it delivered to your home contact Clint via phone, text or email.
Having traveled to other islands like Tahiti, Maui and the Bahamas, he says "I'll always feel a deeper connection to islands and people of The Lower Florida Keys".
In The News
Florida Squid Find Defies Categorization, Puzzles Scientist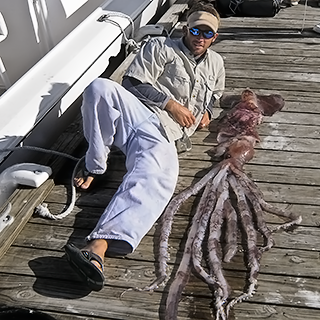 Capt. Clint, Key West 2007
SARASOTA, Florida -- Scientists at Florida's Mote Marine Laboratory are trying to figure out the identity of a large squid found off the Florida Keys by a charter captain last week.
Capt. Clint Moore was fishing in 850 feet of water near the Gulf Stream southwest of Key West Tuesday when he saw a large mass floating at the surface. Moore realized the creature was a squid and took it aboard. At the dock, he estimated the squid to be 13 feet long but realized it was not fully intact.
The animal was taken to Mote Marine Laboratory in Sarasota where Debi Ingrao performed a necropsy on Thursday.
"The tail section was gone; it had no tentacles, so I can't speculate what the overall length was," Ingrao said. "What we have is 6.5 feet long. It weighed 13.2 pounds, but it may have been more than that." Ingrao also realized the squid was something strange to Florida waters.
"It's much different, very, very different," Ingrao said. "I don't know the genus. That could be my lack of knowledge. Someone who's seen 50 million squid might know what it is." So it might be a new species or even a new genus.
The thing is, I don't think people realize how many things we don't know about the ocean," Ingrao said. "We're discovering hundreds of species a day." A researcher from the Smithsonian Institution is expected at Mote on Tuesday for an attempt to identify the squid.
by Underwatertimes.com News Service - February 27, 2007 15:25 EST